Happening at
BHC East Campus
BHC Livestock Judging Team named National Champion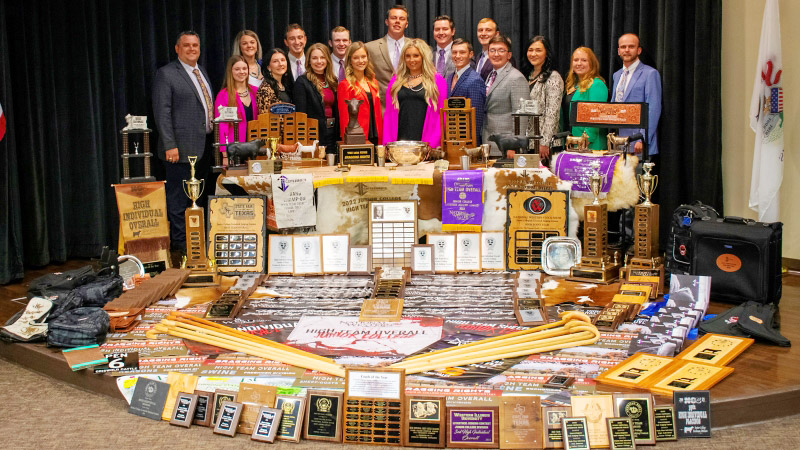 The 2021-22 Livestock Judging Team will go down in history as one of the greatest teams to ever be assembled at Black Hawk College—finishing the year as the National Champion Junior College Livestock Judging Team. The sophomores claimed High Team honors for 10 of the 12 shows they competed in for 2021-22.
"I'm proud of the students who come through our program and that I get to be a part of the education of tomorrow's leaders," said Dr. Blake Bloomberg, lead livestock judging coach. "All teams are special to me but this one was different from the beginning. This group was persistent and diligent in their approach and work ethic," he said. Read more
BHC Western Equestrian Team makes history as IHSA champs

Congratulations to the Black Hawk College Western Equestrian Team for making history as the first two-year school to win the Intercollegiate Horse Shows Association Western Team Championship!
The BHC riders won with a team total of 48 points. Ohio State University earned 46 points to secure the reserve champion title.
"What allows these students to be so, so successful year after year is the amount of time that we spend in the saddle," said Bekah Irish, coach and assistant professor of Equestrian Science. "Coming off two years of not getting to do this, we missed it. This team really stayed through the pandemic," said Irish.
Learn more about the BHC Equine program.
Black Hawk College sweeps NACTA Judging Conference
Congratulations to Black Hawk College East Campus students and coaches for winning the 2022 North American Colleges and Teachers of Agriculture (NACTA) Judging Conference Sweepstakes Award!
This marks the 13th time Black Hawk College has garnered the top prize at the national judging conference. BHC students brought home the Sweepstakes Award in 1981-85, 1989, 2009, 2014 and 2016-19.
Approximately 200 students from more than 15 two-year schools competed in the four-day conference, held for the first time since 2019.
The 39-member BHC team won by having the highest combined team score for two-year schools. Black Hawk College entered teams in nine of the 13 contests. A college had to enter at least seven contests to be eligible for the Sweepstakes Award this year. Read more
A Donation to Inspire Students
Professor Emeritus Eldon "Bud" Aupperle & Wife Enhance Aupperle Recognition Fund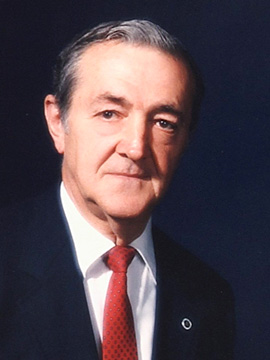 Professor emeritus Eldon "Bud" Aupperle (retired 1988) and his wife, Virginia, recently enhanced the Aupperle Recognition Fund with a $50,000 donation to the Black Hawk College East Foundation. The gift will be used annually to provide a $5,000 award to an ag student who is selected for the new Outstanding Agricultural Graduate Award.
Bud Aupperle intends for the award to go to an "overall outstanding person," not just a student with good grades, but someone who also is involved in the college and the community. "My philosophy is to develop the students beyond the classroom, which makes them a better individual in life," he said.
Aupperle was the first of six original faculty members hired at the East Campus in the late 1960s. His role was to develop the agriculture program for the new campus. He was well suited for the job with bachelor's and master's degrees in ag education and experience starting a high school vocational-agricultural program at Warren School in Monmouth, Illinois.
Aupperle developed and taught Ag courses at the East Campus from 1967-88, touching the lives of thousands of students. During his first year, he organized the Agri-Business Club, and in 1972, he started the Agri-Business Club Alumni (ABCA). Even after he retired from teaching, Aupperle continued to stay connected to the college through the ABCA. For 37 years, he was the group's executive secretary until retiring from that position in 2009.
"Bud is a huge part of our campus's deep history," said Danielle Williams, BHC East Foundation executive director. "This generous contribution proves how much the college means to him and Virginia."
Longtime BHC East Foundation donors, the Aupperles, recently made a significant donation. "I wanted to recognize the most outstanding ag student each year," Bud Aupperle said. "Furthermore, it should motivate the individual to do their best."
"I wanted to recognize the most outstanding Ag student each year," Bud Aupperle said. "Furthermore, it should motivate the individual to do their best." Students will not apply for the award. A selection committee will choose the recipient, and the award will be presented each spring at the Ag Recognition Banquet. The first award will be given this May.
"Bud knew what he wanted his legacy to be, and now that will come to life," Williams said. "We are grateful for the Aupperles' investment in Black Hawk College students."
Learn more about our scholarships.
A family creates an endowed scholarship
Barbara J. Curran Golby Scholarship
In 2011, the family of Barbara J. Curran Golby decided to honor her memory by establishing an annual scholarship for students who are studying to be certified nursing assistants or CNAs.
In 2021, family members decided to make additional contributions so that the scholarship through the Black Hawk College East Foundation would be endowed.
"That way, the scholarship and our mother's memory will live on for many years and help those who need it," said her son, Marty Golby. Golby was a nurse in the Kewanee area for nearly 50 years and spent the last 10 years of her career teaching CNA students at the Black Hawk College East Campus. "She was always sensitive to the needs of those who were less fortunate," Martin Golby said.
The new endowed Barbara J. Curran Golby Memorial Healthcare Scholarship will be a $500 award available to students in the college's Basic Nurse Assistant Training Program and nursing students.
Over the last ten years, the Golby family has enjoyed connecting with the students who have benefitted from their generosity. "We have had the privilege of meeting a few of the scholarship recipients and hearing about their lives," Golby said. "It's always great to hear of their hard work and determination, sometimes overcoming a number of challenges while reaching goals that they didn't previously imagine for themselves," he said.
Learn more about our scholarships or the CNA scholarships
Illinois Community College Trustees Associate Gives Award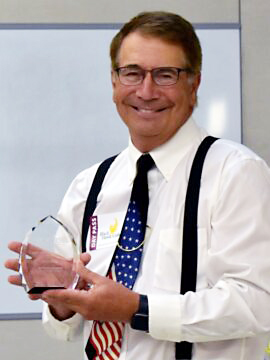 The Illinois Community College Trustees Association (ICCTA) named the East Campus graduate as a co-recipient of its 2020 Distinguished Alumnus Award. The association presented him with the award at the BHC Board of Trustees meeting in September.
Marion, an Alpha resident, earned his BHC Associate in Applied Science in Agriculture Production Technology in 1978. He is the founder/owner/CEO of Calmer Corn Heads and president of Calmer's Ag Research Center, the largest independently funded, farmer-run ag research center in the United States.
Calmer invented the world's first 12-inch and 15-inch corn heads. These ultra-narrow rows allow higher yields and profitability and also have environmentally friendly benefits including erosion control and natural weed control.
Marion was named one of agriculture's 25 most influential people, voted one of the 40 No-Till legends nationwide, and received the Public Image of Agriculture Award. He has more than a dozen patents for harvesting technologies that have revolutionized how corn is grown and managed around the world. Read the article
Learn more about Marion and his contributions to American Agriculture.
Generous Gift to Black Hawk College East Campus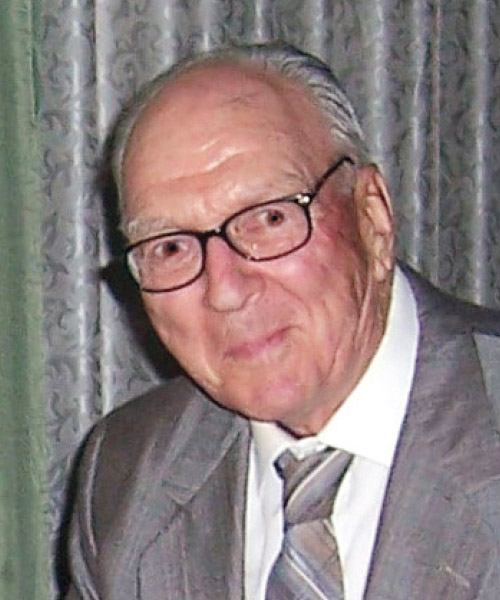 The Black Hawk College East Foundation received the largest estate gift in the Foundation's 52-year history. Donal J. "Bud" Ward of Walnut passed away in January 2019 and in his estate designated a gift of more than $240,000 to the BHC East Foundation to benefit the Black Hawk College East Campus.
The 95-year-old farmed in the Van Orin area early in life then was a grain and livestock farmer in the Deer Grove area for 60 years before retiring at the age of 88.
"The establishment of this gift is a true testament of his legacy and belief in lifelong learning" said his nieces, Deanna Hoge and Sharon Broers... Read more
Meet BHC East Student Emily Fry '21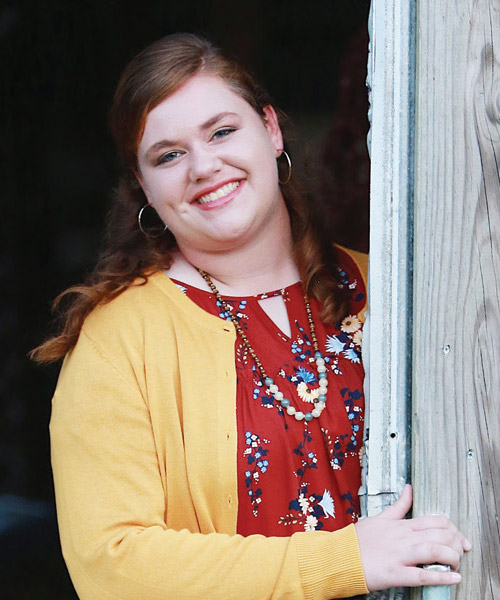 As a scholarship recipient, Emily shared: I am sincerely honored to have been selected as a recipient for a scholarship. I am a sophomore in the Ag Transfer program majoring in Animal Science and agribusiness. I have deep roots in the agricultural industry and a passion for livestock. I understand the value of a good education, life experiences and the hard work it takes to achieve goals that open doors to the future.
Receiving a scholarship provides me the opportunity to further my education and work toward my career goals in the agricultural industry, specifically beef cattle genetics. This scholarship motivates me to work even harder and concentrate on my education without additional financial stress. I greatly appreciate the generosity of scholarship benefactors and look forward to giving back in similar ways as soon as I can.
Learn more about creating a scholarship
Honoring Chuck Deahl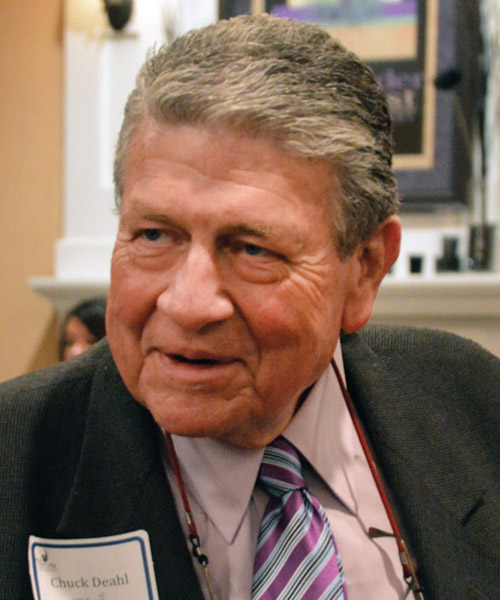 Chuck Deahl always believed in Black Hawk College, especially the East Campus. He showed his love for the college by serving on the BHC East Foundation Board of Directors for 10 years.
"We know how important it is to have a community college in our area," said his wife, Sharon Deahl, long-time benefactor of the East Foundation. "If there's a way we can help students obtain an education, we wanted to do that.
After he passed away in 2018, Sharon decided to create an endowment at Black Hawk College in his memory. She recently donated $25,000 to the BHC East Foundation to establish the Chuck Deahl Memorial Scholarship.
"I think Chuck would be very happy with how we are honoring his legacy and helping future students," Sharon said. "Uncle Chuck was a Black Hawk College supporter through and through and very passionate about the mission of the East Campus," said Jodee Werkheiser, his niece and an East Campus computer science applications professor. "He was a true believer in education," she added.
Dan & Jennifer Shike '98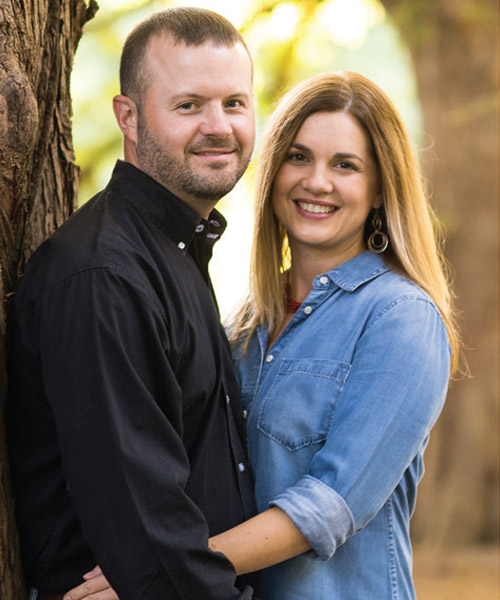 We wouldn't be where we are today without Black Hawk East. To say attending BHE was one of the best and most life-changing decisions of our lives is an understatement. The education and experience we gained during our years in Kewanee, Illinois, set the course for a life together that we are grateful for.
We were encouraged to judge livestock and through that, we became part of a team and a larger community that will be our friends for life. We opened our eyes to new ways of seeing the world and were taught how to be lifelong learners. Wherever we go in life, we are proud to be a part of the Black Hawk College East family. Our lives are so much better because of the East Campus.
Need assistance?
We are here to help. If you need more information, please contact us.