Congratulations to our
2020 Friends of the Alumni
Dr. Mark Hoge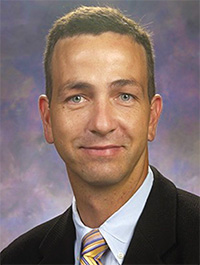 Dr. Mark Hoge has been in the livestock industry from the beginning, as a boy he grew up breathing cattle, hogs and sheep. His father, Dan, served as a constant supporter and teacher to Mark. Therefore, he learned from the best and was blessed with many opportunities. His father helped him understand how incredible the agricultural industry truly is. As a boy, Mark tagged along to livestock judging events at Black Hawk College East Campus for as long as he can remember. This gave him the chance to be mentored right alongside amazing, influential livestock leaders. All of the moments in his life revolve around raising and evaluating livestock. If you were to ask Mark, he does not remember any moments without livestock. In fact, his greatest fear is not being around livestock. Dr. Mark Hoge was also able to raise livestock on his grandparent's farm in Walnut, Illinois.
They raised every species there was and of course showed them too! The family spared nothing to make sure Mark was able to be surrounded by all of the species. His family pushed him to be a person who was passionate for the industry and gave him the drive to know the possibilities were limitless. Upon graduation from Cambridge High School, he pursued his interest of livestock judging and Animal Science. He attended Black Hawk College East Campus and then the University of Illinois. While at both institutions, he was very active on the livestock judging teams. From there he decided to attend Iowa State University for his Master's Degree in Animal Breeding. While at Iowa State Mark coached the livestock judging team, advised students, and taught classes in Animal Science. He found an interest in teaching and research and decided to pursue his PhD. in Animal Breeding at Michigan State University. An opportunity presented itself to join the staff at Western Illinois University in Macomb, Illinois, in 2003. Dr. Mark Hoge has been employed as a faculty member for 17 years at Western Illinois University. Some of his duties include advising the Hoof N Horn Club and AGR house, coordinating the sheep and swine unit, and coaching the livestock judging team.
Mark currently resides in Good Hope, Illinois, with his wife, Katie and two sons. As a family they are very active in raising and showing cattle, hogs and sheep. Dr. Hoge's goals for his family and the industry are simple and the same. Be better. Do more. It is his mission to make sure that as an industry and as an individual person, we continue to make progress and we do not become stagnant. Mark is always pushing the conversation of genetic progress. He wants to make sure the industry is not influenced by trends and the decisions made are sound and just. Going forward Mark said his top priorities are focusing the values of fairness, kindness and loyalty to one another.
Doug Murray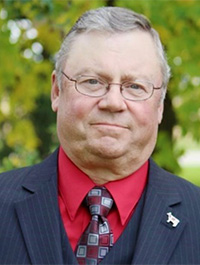 Doug Murray was raised in Toulon, Illinois where he attended Toulon High School. After graduation, Doug then pursued a Bachelor of Science in Animal Science at Western Illinois University. In 1972, Doug married Jane Richey and later had two daughters, Gwendolyn and Ryan Clark and Amanda and Matthew Dynes, and have been blessed with four grandchildren.
A dairy operation spanning over three-quarters of a century, Doug, Jane, and family continued the legacy of Double A Farm in rural Toulon where they raised Ayrshire dairy cattle for show and milk production. The history of Double A Farm began in the 1930s when Doug's father, Phil Murray, started exhibiting Ayrshires for 4-H. Doug has since worked at perfecting his herd of Ayrshires since the 1950s after showing his first Ayrshire in 4-H.
Doug and family have been actively involved with the farm and have shown cattle at numerous county, state, and national shows, taking home many grand champion and reserve titles. He has also served on various agricultural and dairy boards including the Ayrshire Breeders' Association, eventually serving as President, (AMPI) Associated Milk Producers Incorporated as a District Board Member & Delegate, the Heart of Illinois Fair Board, and the Stark County Farm Bureau. Additionally, Doug has been a member of the Dairy Shrine, PDCA, National Ayrshire Association, Milking Shorthorn Society, Illinois Ayrshire Club, and the Midwest Ayrshire Club. With Doug's knowledge and background in dairy evaluation, Doug has served as a dairy judge at various county, state, and national shows including the Pennsylvania All-American, the Hoards Dairy Judging Contest, and the Southern Ayrshire Junior Show.
For over 35 years, Doug has been an integral part of the Black Hawk College East Campus community. He has assisted with countless FFA, 4-H, and Black Hawk College Dairy Judging contests and events. His time as an instructor at BHE in Dairy Science showed great commitment and determination to his students and the dairy industry. Doug's dedication to work with students shows as they perform at exceptional levels while competing. Local FFA chapters, 4-H clubs, and Black Hawk College East Campus' livestock judging program have benefited greatly from his time spent working with students and faculty.
The Murrays' passion for the Ayrshire breed and the dairy industry has been shown time and time again and has continued for over five generations. As they ceased milking operations in late 2019, the Murray family is proud of their heritage, their cows, their breed, and their legacy. Thank you, Doug and family, for your efforts and contributions to the local area, the agricultural and dairy industries, and continued support of youth and collegiate activities!
Popular Content
If you cannot find the information you are looking for, please contact us.