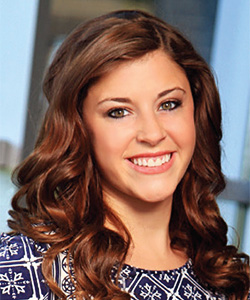 From the desk of
Danielle Williams
Let's face it, 2020 was a year that no one could have predicted. We have heard negative headline stories for so long that we often forget to stop and consider all the good happening around us.Despite this unprecedented year, the Black Hawk College East Foundation is still beyond grateful and here are just a few reasons why:
Resilience
Students had to learn from home. Our faculty members had to quickly adapt to provide that quality education online. BHC Administration had to make guidelines from a constantly changing world. Our staff made adjustments to meet the needs and safety of our students. This resilience is something we can look back on to prove that any obstacle is possible with the right attitude and strength.
Transformative Gifts
In the middle of the pandemic, there was so much uncertainty about the future. The Donal "Bud" Ward estate gift brought hope for better days that lie ahead. This gift truly set the standard of what a transformative gift at the East Campus looks like. We look forward to honoring Mr. Ward's legacy for decades to come.
Technology
In a world of remote working and learning, advanced technology is critical. Luckily, our college and the East Foundation Board came together to make the technology transition easy and accessible for our students. The East Foundation has been able to provide laptops and internet access for several students in need. This likely was an area that students have silently struggled with in the past, and we hope to continue supporting student's technological needs for the future.
Legendary Retirements
Legendary animal science professor Dan Hoge retired this past May. While the annual livestock judging reunion was not able to happen, that did not stop the celebration of an incredible career. Individuals from all over the country wrote to Dan and contributed in his honor. We are grateful for Dan's dedication to the college and the East Foundation. Though he may officially be retired, we know that the East Campus will always be his home.
Donors Like You
Without the support of our donors, we would not be able to carry out our mission year after year. Alumni, East Foundation board members, trustees, college employees and advocates everywhere: you are the reason for success at the East Campus. Thank you for your generosity!
Our gratitude could truly go on for pages. 2020 may be a year that many would like to forget, but even the short list above reminds us there is plenty of good to appreciate. We have made great strides in this difficult year, but our work is far from complete.
"In the midst of darkness, light persists." As we plan for a new year, I ask you to be the light. Be the light that guides you through your darkest hours. Be the light that makes a difference in someone's day. Be the light and consider contributing to the Black Hawk College East Foundation. Your gift means more now than ever before.
Until we are safely able to be with one another again, I hope you take care of yourself and your loved ones. If you ever need someone to talk to, I am simply a phone call away.

All the best,

Danielle Williams
Executive Director
309/854-1715
Williamsd@bhc.edu
Visit Us
26230 Black Hawk Rd, Galva, Illinois 61434 Call us: 309/796-5061