Professor Emerita Donna Irvin was inductee into the prestigious Black Hawk College East Foundation Wall of Fame.
The special distinction of Wall of Fame Inductee is bestowed upon individuals who make significant academic, volunteer, and/or philanthropic contributions for the growth and development of the East Campus of Black Hawk College. Learn how you can help honor Donna's legacy.
About Donna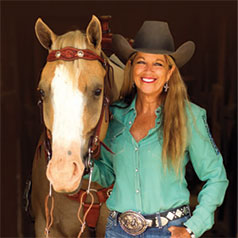 In 2017 Donna Irvin was recognized by her fellow faculty members, the Board of Trustees and Black Hawk College for her 27 years of service and contributions to the equine industry when she retired. She was honored with the rank of professor emerita.
During her 27 years as faculty member and equestrian coach, Donna and her colleagues have grown the equine program at Black Hawk East from seven students and 30 horse stalls in 1990, to 60 students and 100 horse stalls in the most recent expansion completed this year. Donna started the BHC equestrian team in 1998, after the College joined the Intercollegiate Horse Show Association, eventually growing her competitive teams to 55 students with 16 Regional Championships, three Semifinal Championships, and more than 25 National and Reserve National riders. Donna and her fellow faculty members changed the lives of hundreds of students over the years. Read more (PDF)
Honor Donna's Legacy
In recognition for her achievements, the Black Hawk College East Foundation is establishing the endowed Donna Irvin Equine Scholarship which will provide financial assistance to students for many years to come. With your help, we can reach this goal and carry out Donna's legacy by providing students with an incredible education at Black Hawk College East Campus.
The Wall of Fame Committee has set a goal of $50,000 for the endowed Donna Irvin Equine Scholarship, which will generate $2,000 to $3,000 in student scholarships annually to equine students attending the East Campus. We are offering sponsorship levels to individuals, businesses and organizations to assist in this endeavor. This will be an endowed fund. As such the interest earnings can only be used for student scholarships. Donate now or contact us to learn more.
Pledges may be made over 1, 3 and 5 years—all gifts are tax deductible as allowed by law.
"The contributions Donna has made to the East Campus Equine Program and equestrian teams; her continued commitment to teaching young people; her passion exhibited through her showmanship and barrel racing; her development of future leaders in the equine industry; and her dedication to the equine industry as a whole are immeasurable."
Douglas E. Parrott, Chair
Black Hawk College East Foundation
"She (Donna) has been and continues to be an amazing and valuable contribution not only to my program but also to the students and horsemen we have an opportunity to work with. It is our mutual goal to make a difference, "One Horse, One Rider at a Time." I hope you will join with friends of Donna to help propagate this opportunity by supporting the Donna Irvin Equine Scholarship."
Sharon Camarillo, Owner
Sharon Camarillo Horsemanship
and Barrel Racing
"I have witnessed Donna evolve through her career at Black Hawk College into a great horsewoman, coach, role model and friend for her equine students.
Her passion for the college community and overwhelming work ethic have left a lifelong impact on Black Hawk College. As a Black Hawk Alumnus, I think we all need to support this scholarship."
Jeff Greaves, Owner
Jeff Greaves Performance Horses
About Wall of Fame
Since 1992, the Black Hawk East College Foundation has inducted 29 individuals into its prestigious Wall of Fame. This distinction is bestowed on an individual or organization that has made significant academic, volunteer, and/or philanthropic contributions for the growth and development of the East Campus of Black Hawk College. A framed photograph of each inductee is displayed on the Wall of Fame at the East Campus.
We have also honored 19 individuals and organizations who have been recognized with the Distinguished Service Award which is also presented at the Wall of Fame recognition reception. Their names are proudly displayed on the Distinguished Service Award Plaque on the Wall of Fame. Learn more
Popular information on our website
If you cannot find the information you are looking for, please contact us.