You are part of the Black Hawk College East Campus Family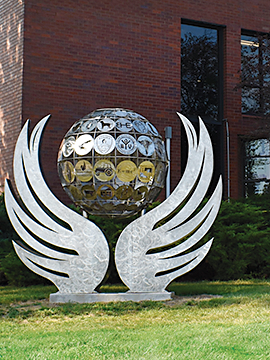 Stay Connected
You are what the Black Hawk College East Foundation is all about: lifelong relationships.
Fellow Black Hawk College alumni have let us know that they want to stay informed of activities happening at the college, and in touch with fellow alum. Make sure your contact information is up-to-date so that we know the best way to connect with you. Simply use our online contact form to update your personal information.
Alumni Spotlight
Read about fellow alumni and where they are now. We're currently featuring a "where are they now" with Paul Rogers who came to Black Hawk College to pursue an Associate of Applied Science degree in Horse Science. Read the article
Know a fellow alumni who should be featured online and in our publications? Drop us a note, using our online contact form.
Follow us Online
On Facebook, "like us" and follow the BHC East Foundation Also on Facebook, check out the BHC East Aggie Alumni. Plus you can follow the BHC East campus main Facebook page.
Our Twitter feed will keep you in the know about all of the alumni and campus news!
Giving Back
The gift of education is considered one of the most valuable gifts a person can give. The benefits are always more far-reaching and more impactful than may be imagined.
Supporting the Black Hawk College East Foundation with an endowment or financial contribution is an outstanding way to enhance the overall quality of the college—by investing in students as they prepare to lead our communities into tomorrow. With the support of loyal alumni like you, we can ensure that our quality endures for years to come. Our staff is ready to help you create a philanthropic strategy—tailored to your unique needs. Gift plans can bring immediate and deferred tax advantages to both you and your heirs while positively impacting the college and students. Donate now
BHC Alumni give back to their alma mater for several reasons. While some feel a debt of gratitude for the outstanding education they received at Black Hawk College, others give so that future generations will have opportunities for success.
Need assistance?
We are here to help. If you need more information, please contact us.